24-Year-Old Trainer Matthew Williams Seeking First Career Stakes Win In Saturday's Grade 3 Monmouth Oaks With Dream Marie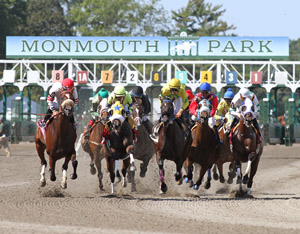 It would be more than understandable if Matthew J. Williams was feeling a bit anxious as he prepares to send out Dream Marie in Saturday's Grade 3 Monmouth Oaks, the feature race on Monmouth Park's 13-race card.
He's 24, barely has two years of experience as a trainer, has never won a stakes race and boasts the grand total of 64 starters to this point in his career.
And the nine-horse field of 3-year-old fillies for the 96th edition of the Monmouth Oaks features horses from the barns of Todd Pletcher, Steve Asmussen and Arnaud Delacour.
But Williams says he is able to stay calm as he takes aim at what would be the biggest victory of his young career because he keeps reminding himself of one thing.
"It's the horses running, not us," he said. "That's a good thing."
With the top six finishers back from the Grade 3 Delaware Oaks on July 4, as well as fourth-place Acorn Stakes finisher Lucrezia, the Oaks field has several accomplished fillies. Dream Marie, off her second-place finish to Project Whiskey in the Delaware Oaks, where she was beaten a half-length, certainly fits.
"She made a really big run in the Delaware Oaks," said Williams. "I thought she was going to win coming out of the turn but Project Whiskey (trained by Butch Reid) really dug in. But my filly ran a good race.
"We're hoping we can turn the tables on Project Whiskey but Lucrezia is a horse that I have a lot of respect for, too. She finished ahead of us in the (Grade 2) Gulfstream Park Oaks and I saw her win a 2-year-old stakes race at Tampa and she was really impressive that day."
Williams, who hails from Kingston, Jamaica, currently has five horses he trains, all owned by his family's Miracles International Trading Inc. stable, and has been Gulfstream Park-based since launching his training career.
His transition to training in the United States has been seamless because of his background.
"My grandfather had a stud farm in Jamaica," Williams said. "He was a champion breeder for 10 years in Jamaica. He had a lot of Jamaican Classic winners and bred a Triple Crown winner in Jamaica. So growing up I was always involved with horses."
Dream Marie signaled her arrival as a potential stakes winner after winning a $50,000 starter allowance at Gulfstream Park on Dec. 14, Williams said, following that up with a win in a $75,000 optional claimer on Jan. 20. Williams then decided to try her in the Grade 2 Davona Dale at Gulfstream on Feb. 29.
The daughter of Graydar-Lin Marie by Curlin finished third that day.
"It was time to take a shot with her," Williams said. "I think she ran well. A couple of things could have gone differently in the race but she ran well. Two good fillies beat her."
When Dream Marie finished second on May 15 in the Hollywood Wildcat at the Monmouth Oaks distance of a mile and a sixteenth, Williams targeted the Delaware Oaks and Monmouth Oaks for his filly.
Purchased for $25,000 at the OBS March sale in 2019, Dream Marie sports a 3-2-1 line from 10 career starts with lifetime earnings of $150,160.
Joe Bravo is staying aboard, too, after having the mount in the Delaware Oaks.
"It feels good to have Joe want to ride her again," Williams said. "I don't think any rider is as familiar with a racetrack as Joe is with Monmouth Park."
For Williams, Dream Marie would be appropriately named if she happens to win Saturday.
"Winning my first stakes race, and my first graded stakes, would mean a lot," Williams said. "It's something I have dreamed about when I was watching U.S. races on TV in Jamaica. It means a lot to me just to see my name among some of the trainers in this race so winning it would really be something special for me."