21-1 Irish Boolum Romps In Sunday's Friendly Lover Handicap During Monmouth Park's 51st Annual N.J. Irish Festival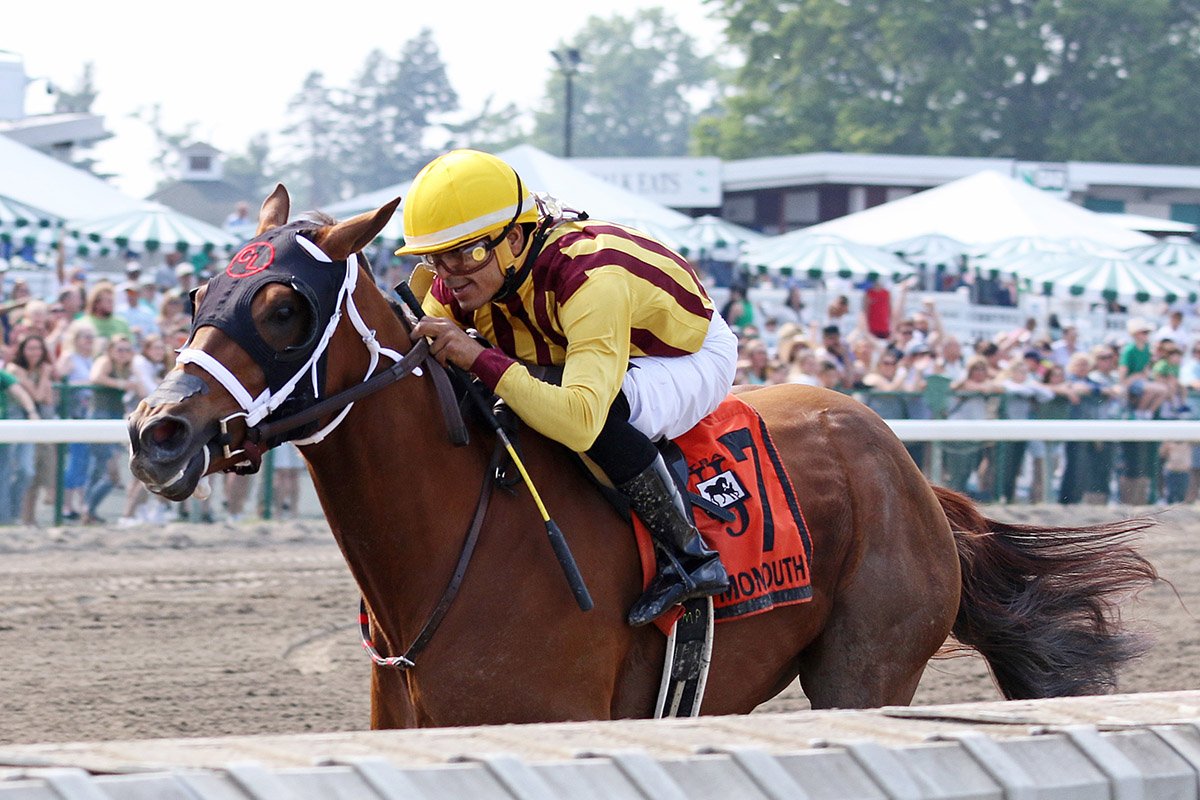 Monmouth Park's 51st annual New Jersey Irish Festival on Sunday turned out to be a bonanza for hunch players in the featured Friendly Lover Handicap.
Irish Boolum, the second-longest shot in the field at 21-1, powered to an 8¾-length romp over 16-1 Irish Meadow to record his first career stakes win in the $85,000 one-mile event for New Jersey-breds.
And if that wasn't enough for the pluck of the Irish on a day they were being celebrated, the winner is trained by Derry, Northern Ireland, native Cal Lynch.
"Whatever the reason is for it I'll take it," said Lynch.
Idle since a listless eighth-place finish in his last outing on March 1 at Parx, Irish Boolum looped past the slow early pace being set by 7-10 favorite He'spuregold and Paco Lopez, and then left the field in his wake with a burst that quickly separated him from his six rivals. The winning time was 1:39.73.
The all-Irish horse-named exacta returned $170.20 for $2.
"I know this horse well," aid winning rider Angel Arroyo, now 3-for-3 with 4-year-old gelded son of Exaggerator. "I knew he was 100 percent ready to go off the layoff. Usually he is far back. I wanted to sit five or six lengths back. But when I saw how slow the pace was for the first half mile I had to move.
"Today the slow pace actually helped me. It kept me closer early on. And when he was ready to go he took off. I had nice position and I was clear and I just let him run."
Lopez, Monmouth Park's leading rider, employed the same early tactics he did in winning Saturday's Lady's Secret Stakes, taking the field to an opening quarter in a plodding :25.76 and then to the half in :49.86. That worked on Saturday for Lopez. It didn't this time, with Arroyo sensing the slow pace and letting his horse loop the field.
Irish Boolum is owned and was bred by Isabelle de Tomaso, a daughter of Amory Haskell, for whom Monmouth Park's showcase race is named.
"The pace today was so slow early. I guess that's why he was so close early on. He usually gets out-footed," said Lynch. "Angel Arroyo saw the pace was slow and put him right there. He's done nothing wrong against state-breds. They take turns beating each other. There's not a lot that separates them. But today's performance was quite impressive."
In posting his fourth win from 16 career starts, Irish Boolum now has three wins and four seconds from eight lifetime races at Monmouth Park. Lynch said the nearly 15-week layoff was a much needed one.
"We freshened him a little and it seems like it helped," said Lynch. "Isabella de Tomaso has been real patient with this horse and let him develop at his own pace last year. He went down to Delaware Park and worked down there with my wife Daniella. That track is a little deeper and it has been playing tough. So his last couple of works have been really impressive.
"We weren't sure we were tight enough coming off the layoff. I thought Kelly Breen's horse (He'spuregold) would be very tough in there. His last race at Parx Irish Boolum just didn't handle the track. So we decided to freshen him up and get him back with Jersey-breds."
Irish Boolum paid $45.60 to win for $2.
He'spuregold finished fourth.