2019 Monmouth Park Meet To See 61 Days, $7.1 Million Stakes Schedule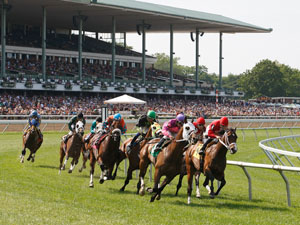 Oceanport, N.J. – Led by the Grade 1, $1 million betfair.com Haskell Invitational, Monmouth Park is set to offer $7.1 million in stakes races when the track kicks off its 74th year of racing on Saturday, May 4.
In addition to anchoring a card featuring six-stakes races, the Haskell will also see a new day when it's renewed for the 52nd time on Saturday, July 20, shifting from its previous Sunday constant. In total, Monmouth will race 61 days in 2019, up from 52 last year.
"This year will be a game-changer for Monmouth Park and for racing in the State of New Jersey," said Dennis Drazin, Chairman and CEO of Darby Development LLC, operators of Monmouth Park. "For too long we have seen our neighbors enjoy casino-fueled purses placing New Jersey at a competitive disadvantage. With a $100 million purse subsidy over the next five years, half of which is dedicated to Monmouth, awaiting the signature of Governor Murphy, we can now start to close that gap and move Monmouth Park to a more even playing field.
"This is a terrific opportunity and we will shepherd these monies in a manner that creates a superior betting product with fuller, more competitive fields. To that end, beginning in 2019, we will offer an enhanced stakes schedule, substantial increases to our purse structure and more race dates, all the while keeping intact the owner and trainer guarantees we offered last year and expanding those into the state-bred program. In addition, we will continue to offer free worker's compensation for trainers stabled at Monmouth Park and will pay a forty-percent bonus to New Jersey-bred horses who compete in open company.
"All in, we're looking at approximately $500,000 per day this year; and, overall, we are confident that this is a winning formula."
That formula will once again include bundled stakes days, which proved wildly popular when they debuted at Monmouth last year. Led by the stakes-studded Haskell card on July 20, a quartet of stakes races will be offered on May 25, June 22, Sept. 1 and Sept. 28, the last providing the championship day for the MATCH Series, which is back after a successful return last year.
The 17th annual New Jersey Thoroughbred Festival, with three stakes events, will be renewed on Aug. 25, as a total of 11 NJ-bred stakes races are on tap this season.
In total 64 stakes, 12 of them graded, will be offered this year, starting with the $100,000 Cliff Hanger on Opening Day. All stakes races will carry a minimum purse of $75,000.
Stall applications, which are due by March 15, are now available on-line at www.monmouthpark.com or in hard copy format in the Monmouth Park racing office.
The entire 2019 stakes schedule is:
| | | | | | |
| --- | --- | --- | --- | --- | --- |
| Run Date | Stakes Name | | Purse | Division | Distance |
| 4-May-19 | Cliff Hanger Stakes | Listed | $100,000 | 3 and up | 1 mile (Turf) |
| 11-May-19 | Serena's Song Stakes | | $75,000 | F & M 3 and up | 1 mile 70 yards |
| 12-May-19 | Long Branch Stakes | | $75,000 | 3 YO | 1 mile 70 yards |
| 18-May-19 | Politely Stakes | | $75,000 | F & M 3 and up | 5 1/2 furlongs (Turf) |
| 19-May-19 | Get Serious Stakes | | $75,000 | 3 and up | 5 1/2 furlongs (Turf) |
| 25-May-19 | Monmouth Stakes | G2 | $200,000  | 3 and up | 1 1/8 miles (Turf) |
| 25-May-19 | Salvator Mile | G3 | $150,000  | 3 and up | 1 mile |
| 25-May-19 | Boiling Springs Stakes |   | $75,000  | 3 YO Fillies | 1 1/16 miles (Turf) |
| 25-May-19 | John J. Reilly Handicap | NJ Breds | $75,000  | 3 and up | 6 furlongs |
| 26-May-19 | Miss Liberty Stakes | | $75,000 | F & M 3 and up | 1 1/16 miles (Turf) |
| 27-May-19 | Hystericalady Stakes | | $75,000 | 3 YO Fillies | 6 furlongs |
| 1-Jun-18 | Tale of the Cat Stakes | | $75,000 | 3 YO | 1 1/16 miles (Turf) |
| 2-Jun-18 | Lookin At Lucky Stakes | | $75,000 | 3 YO | 6 furlongs |
| 8-Jun-19 | Unbridled Elaine Stakes | | $75,000 | F & M 3 and up | 5 furlongs (Turf) |
| 9-Jun-19 | Smart N Classy Handicap | NJ Breds | $75,000 | F & M 3 and up | 1 mile |
| 15-Jun-19 | Honey Bee Stakes | | $75,000 | 3 YO Fillies | 5 1/2 furlongs (Turf) |
| 16-Jun-19 | betfair.com Pegasus Stakes | Listed | $150,000 | 3 YO | 1 1/16 miles |
| 22-Jun-19 | United Nations Stakes  | G1 | $300,000  | 3 and up | 1 3/8 miles (Turf) |
| 22-Jun-19 | Philip H. Iselin Stakes | G3 | $150,000  | 3 and up | 1 1/16 miles |
| 22-Jun-19 | Eatontown Stakes | G3 | $150,000  | F & M 3 and up | 1 1/16 miles (Turf) |
| 22-Jun-19 | Lady's Secret Stakes | Listed | $100,000  | F & M 3 and up | 1 1/16 miles |
| 23-Jun-19 | Dan Horn Handicap | NJ Breds | $75,000 | 3 and up | 1 1/16 miles (Turf) |
| 29-Jun-19 | Friendly Lover Handicap | NJ Breds | $75,000 | 3 and up | 6 furlongs |
| 30-Jun-19 | Open Mind Stakes | | $75,000 | 3 YO Fillies | 1 1/16 miles (Turf) |
| 6-Jul-19 | Irish War Cry Handicap | NJ Breds | $75,000 | 3 and up | 1 mile (Turf) |
| 7-Jul-19 | Jersey Girl Handicap | NJ Breds | $75,000 | F & M 3 and up | 1 mile (Turf) |
| 13-Jul-19 | My Frenchman Stakes | | $75,000 | 3 YO | 5 1/2 furlongs (Turf) |
| 14-Jul-19 | Blue Sparkler Stakes | | $75,000 | 3 YO Fillies | 5 1/2 furlongs (Turf) |
| 20-Jul-19 | betfair.com Haskell Invitational | G1 | $1,000,000  | 3 YO | 1 1/8 miles |
| 20-Jul-19 | Monmouth Cup | G3 | $200,000  | 3 and up | 1 1/8 miles |
| 20-Jul-19 | Molly Pitcher Stakes | G3 | $150,000  | F & M 3 and up | 1 1/16 miles |
| 20-Jul-19 | WinStar Matchmaker Stakes | G3 | $150,000  | F & M 3 and up | 1 1/8 miles (Turf) |
| 20-Jul-19 | Oceanport Stakes | G3 | $150,000  | 3 and up | 1 1/16 miles (Turf) |
| 20-Jul-19 | Wolf Hill Stakes |   | $75,000  | 3 and up | 5 1/2 furlongs (Turf) |
| 21-Jul-19 | Spruce Fir Handicap | NJ Breds | $75,000 | F & M 3 and up | 6 furlongs |
| 27-Jul-19 | Frisk Me Now Stakes | | $75,000 | 3 YO | 1 mile (Turf) |
| 28-Jul-19 | Just Jenda Stakes | | $75,000 | 3 YO Fillies | 1 mile (Turf) |
| 3-Aug-19 | Tyro Stakes | | $75,000 | 2 YO | 5 furlongs (Turf) |
| 4-Aug-18 | Colleen Stakes | | $75,000 | 2 YO Fillies | 5 furlongs (Turf) |
| 10-Aug-19 | Incredible Revenge Stakes | | $75,000 | F & M 3 and up | 5 1/2 furlongs (Turf) |
| 11-Aug-19 | Jersey Shore Stakes | | $75,000 | 3 YO | 6 furlongs |
| 17-Aug-19 | Monmouth Oaks | G3 | $150,000  | 3 YO Fillies | 1 1/16 miles |
| 18-Aug-19 | Jersey Derby | | $75,000 | 3 YO | 1 1/16 miles (Turf) |
| 24-Aug-19 | Unbridled Essence Stakes | | $75,000 | F & M 3 and up | 1 1/2 miles (Turf) |
| 25-Aug-19 | Charles Hesse III Handicap | NJ Breds | $100,000 | 3 and up | 1 1/16 miles |
| 25-Aug-19 | NJ Breeders Handicap | NJ Breds | $75,000 | 3 and up | 6 furlongs |
| 25-Aug-19 | Eleven North Handicap | NJ Breds | $75,000 | F & M 3 and up | 6 furlongs |
| 31-Aug-19 | Presious Passion Stakes | | $75,000 | 3 and up | 1 1/2 miles (Turf) |
| 1-Sep-19 | Red Bank Stakes | G3 | $150,000  | 3 and up | 1 mile (Turf) |
| 1-Sep-19 | Sapling Stakes |   | $100,000  | 2 YO | 1 mile |
| 1-Sep-19 | Sorority Stakes |   | $100,000  | 2 YO Fillies | 1 mile (Turf) |
| 1-Sep-19 | Safely Kept Stakes |   | $75,000  | F & M 3 and up | 5 furlongs (Turf) |
| 2-Sep-19 | Bodacious Tatas Stakes | | $75,000 | F & M 3 and up | 1 mile 70 yards |
| 7-Sep-19 | Decathlon Stakes | | $75,000 | 3 YO | 5 1/2 furlongs |
| 8-Sep-19 | Miss Woodford Stakes | | $75,000 | 3 YO Fillies | 5 1/2 furlongs |
| 14-Sep-19 | Joey P. Handicap | NJ Breds | $75,000 | 3 and up | 5 furlongs (Turf) |
| 15-Sep-19 | Good Magic Mile Stakes | | $75,000 | 3 and up | 1 mile |
| 21-Sep-19 | Smoke Glacken Stakes | | $75,000 | 2 YO | 6 furlongs |
| 22-Sep-19 | Hollywood Wildcat Stakes | | $75,000 | 2 YO Fillies | 6 furlongs |
| 28-Sep-19 | Violet Stakes | Listed | $100,000  | F & M 3 and up | 1 1/16 miles (Turf) |
| 28-Sep-19 | Rainbow Heir Stakes |   | $100,000  | 3 and up | 5 1/2 furlongs (Turf) |
| 28-Sep-19 | Mr. Prospector Stakes |   | $100,000  | 3 and up | 6 furlongs |
| 28-Sep-19 | Regret Stakes |   | $100,000  | F & M 3 and up | 6 furlongs |
| 29-Sep-19 | Monmouth Marathon Stakes | | $75,000 | 3 and up | 1 1/2 miles |