2017 VIP Season and Parking Pass Now on Sale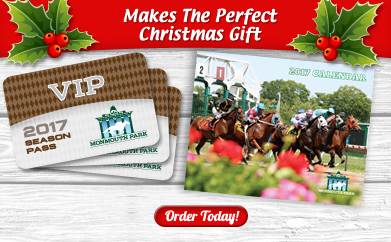 Just in time for the holidays, Monmouth Park's 2017 VIP Season Admission and Parking Pass is now on sale.  For just $115, racing fans will receive free Grandstand or Clubhouse admission and preferred parking for every day of live racing at Monmouth Park in 2017.
In addition, fans can also purchase a 2017 calendar, filled with memories of a historic 2016 season of racing at Monmouth Park.  
Fans who wish to purchase a 2017 VIP Season Admission and Parking Pass or 2017 calendar – either for themselves or for that racing fan on your holiday list – can do so by calling 732-571-5636 or by coming to the second floor of the Administration Building at Monmouth Park 9:30am to 4pm Monday-Friday.