2011 Belmont Stakes Winner Ruler On Ice Pays A Visit To His Old Barn At Monmouth Park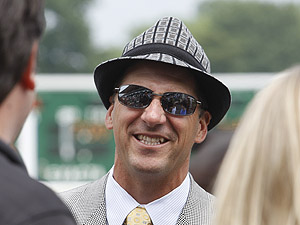 A horse that knows exactly what it takes to win the Belmont Stakes is back "home" at Monmouth Park just in time to witness Justify's attempt to become the sport's 13th Triple Crown winner in Saturday's 150th renewal of the 1½-mile race. 
Ruler On Ice, the 2011 Bemont Stakes winner, has returned to trainer Kelly Breen's barn on the Monmouth Park backstretch to get re-acquainted with his old connections and former home. 
Breen said the 10-year-old gelding was vanned from owner George Hall's farm in Kentucky to Monmouth Park on Thursday. 
"I'd love to sit on him and watch horses train. That would be awesome," said Breen, "But he has a little too much energy for that." 
Ruler On Ice, who was also third in the 2011 Haskell Invitational, finished with a 4-5-3 line from 24 lifetime starts, with his victory in the final leg of the Triple Crown the highlight of his career. 
Monmouth Park will simulcast the entire 13-race Belmont Park card on Saturday, with gates opening at 11 a.m. First race post for the stakes-filled card is 11:35 a.m., with the Belmont Stakes having a listed post time of 6:46 p.m. 
Monmouth Park's 12-race live card has a first post of 12:50 p.m. 
Breen admitted this day in particular is always a memorable one for him because of Ruler On Ice, with his charge beating Kentucky Derby winner Animal Kingdom and Preakness Stakes winner Shackleford in winning the Belmont Stakes. 
"It's nice to have him back, especially with the timing," Breen said. "We're just looking to have some fun and visit with him. He looks good. He might only be here on a temporary basis but George (Hall) is here for the summer and wanted to see him." 
Breen said Ruler On Ice didn't take long to get back that race-day readiness. 
"I said to my assistants `what do you think about throwing a Western saddle on him and standing up there at the track?' I thought that would be pretty cool," Breen said. "We gave him a bath as soon as he got here and put shoes on him and he wanted to do too much when we gave him a bath so we backed off a little. He got his racing mentality back right away just seeing the track."