2-Year-Old Racing Returns To Monmouth Park On Saturday, June 2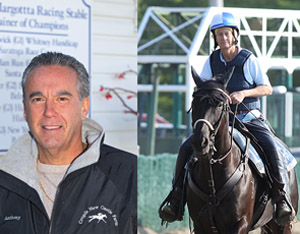 TrainerAnthony Margotta says it's the point in the racing calendar when horsemen and owners can start to dream big, believing anything and everything is possible. 
 Two-year-old racing returns to Monmouth Park on Saturday, June 2, with a field of six fillies kicking off the 12-race card with a Maiden Special Weight event at 4½ furlongs in the first race. Margotta has entered Lucky Dilly and Lubricus Soror in the track's first baby race of the 2018 meeting. 
"This is what it's all about – the young horses," said Margotta. "Until they show you otherwise the sky is the limit for them." 
Trainers Kelly Breen (Terpeye), Chuck Spina (Raisetonew Heights), Jane Cibelli (Take Charge Again) and Wesley Ward (Romani) also have precocious distaffers in the field. 
"It's always exciting when the 2-year-olds get to the racetrack," said Cibelli, whose Monmouth Park training titles in 2011 and 2012 are the only ones by a female in track history. "You have all of these young horses in your barn but you really don't know until they start racing." 
Cibelli, who has seven 2-year-olds in her barn at the moment, says she won't allow a youngster to race until she is convinced the horse is ready. 
Take Charge Again, by Take Charge Indy-Busted Again, "has taken every next step and has done everything well," according to Cibelli. Leading rider Paco Lopez has the mount. 
"I'm a big believer in that they need to be ready before they go to the track," she said. "I don't push them. If they're ready then we go on with them. If they're not then we wait until they are ready." 
Margotta said Lubricus Soror and Lucky Dilly are the most advanced of his five 2-year-olds, four of which are fillies. 
"I love what I do. I love coming out to the barn in the morning and I love all of my horses, no matter which ones they are," said Margotta. "But when you have a promising 2-year-old or two in your barn it definitely gets you up and rolling in the morning. 
"We do everything we can to get the babies ready. But Saturday they are going to put it out there. That's when you really start to get an idea of how much talent they have." 
Adding to the anticipation of horsemen and owners alike with the start of 2-year-old racing is Monmouth Park's history of producing top horses from its maiden races.Since the 1960s, eight champions have gotten their start at the venerable Shore track.  
That list of champions to come out of Monmouth maiden races includes Tosmah (1963), Candy Éclair (1978), Lord Avie (1980), Open Mind (1988), Dehere (1993), Holy Bull (1994), Skip Away (a champion in 1996, 1997 and 1998), and Smoke Glacken (1996). 
"As a trainer, and really as an owner too, this is when it's fun," said Cibelli. "Sometimes you get disappointed too. But you always want to hold out hope that you have something special." 
Monmouth Park's first post on Saturday is 12:50 p.m., with gates opening at 11:30 a.m. The $60,000 Tale of the Cat Stakes, for 3-year-olds going a mile and a sixteenth on the turf, headlines the card. 
An 11-race card follows on Sunday, June 3.