158-1 Shot Andrez Conquist Sets Monmouth Park Win Mutuel Record; Pick 5 Carryover Of $34,067 Part Of Mandatory Payout On Sunday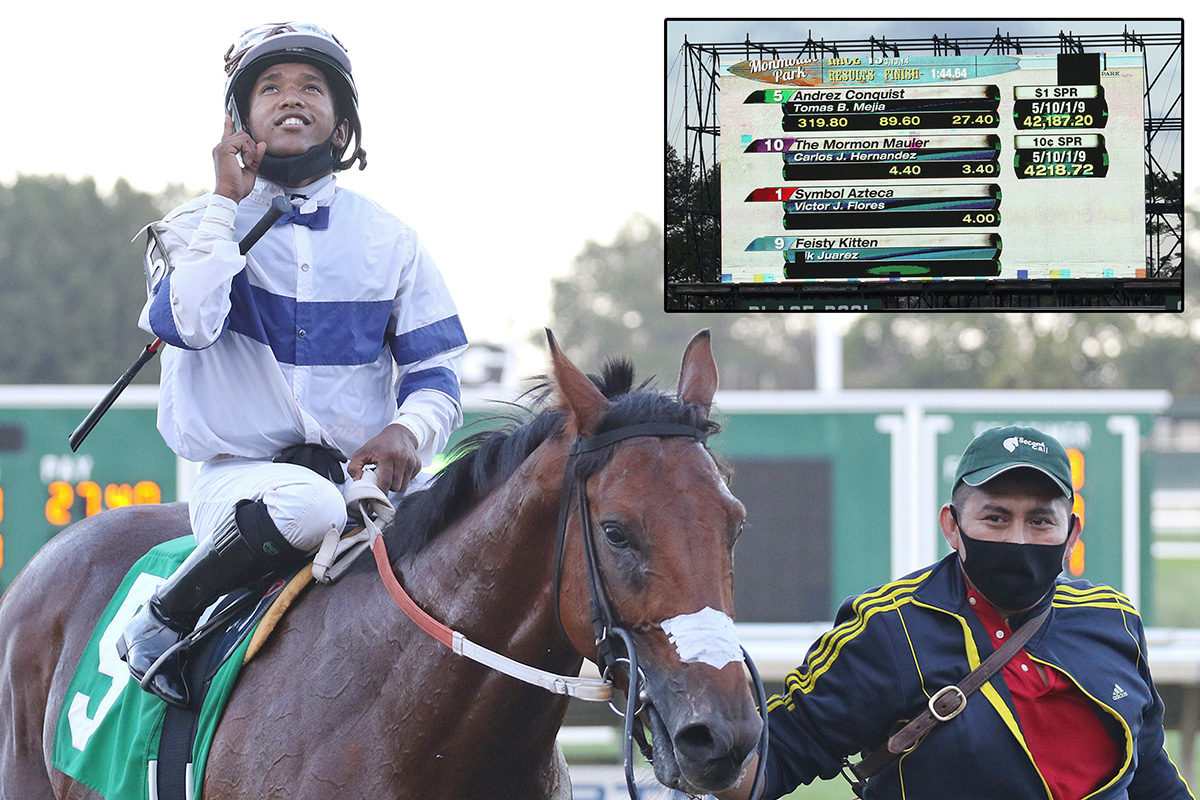 It was just around noon that jockey Tomas Mejia learned he'd picked up a mount on what looked like a hopeless longshot in Saturday's 13th race at Monmouth Park.
A little more than six hours later he'd etched his name in the track's record book.
Andrez Conquist, a 158-1 shot ridden by Meija, returned the biggest win price in Monmouth Park's 75-year history when he paid $319.80 in a shockingly-easy four-length victory that erased a 69-year-old mark.
The former record for the highest win payoff in Monmouth history was $229.20, set on July 15, 1951.
Melvin Ovando owns and trains Andrez Conquist.
The stunning victory resulted in a Pick 5 carryover of $34,067 that will be part of a mandatory payout on closing day on Sunday. The carryover applies to the Pick 5 that starts in the first race on the 13-race card.
There is also a Jersey Shore Pick 6 carryover of $3,766 that will be part of a mandatory payout as well.
"I don't know what to say. Wow," Mejia said after learning of the record-setting win. "They told me all the other jockeys that have ridden this horse have wanted to come from behind. The trainer said `get him close to the lead this time.' So I was able to sit behind (The Mormon Mauler) for most of the race and then he just finished strong. I don't know what else to say."
Andrez Conquist tracked The Mormon Mauler for most of the mile and a sixteenth turf race before pulling away in the stretch.
Mejia only picked up the mount because Jorge Gonzalez opted to ride Storm Afleet, who came off the alternate list because of a scratch. Gonzalez had listed Andrez Conquist as his second choice in the race.
"My agent called me and told me I picked up a mount in the 13th race and I said `okay, that sounds good,' " said Mejia. "Then I looked and saw it was a longshot. But it was okay because I have ridden for Ovando before."
In fact, the only three wins of Ovando's two-year training career have come with Mejia riding. Mejia booted home Reina La Kelsey for a $79.20 win mutual for Ovando's first career victory on July 24. Those same connections hooked up for a win on Sept. 6 at a win mutual of $24.20.
Andrez Conquist had been 0-for-6 lifetime entering the race, never finishing better than sixth.
First race post time for Sunday is 12:50 p.m.