$150,000 Late Pick 5 Single Winner Guarantee, $61,611 Pick 6 Carryover Await Bettors Saturday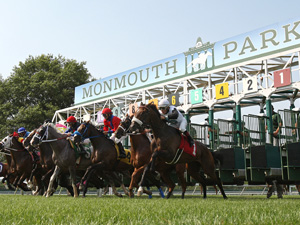 Handicappers have plenty to choose from during Saturday's 13-race Monmouth Park card, with a $150,000 late Pick 5 guarantee for a single winner and a $61,611 carryover in the Jersey Shore Pick 6 up for grabs. 
The late Pick 5 guarantee covers the final five races on the card, which is highlighted by the Grade 1 United Nations. The guarantee applies only if there is a single 50-cent winner. 
The Pick 6 carryover will be available over the final six races. The bet costs just 20 cents. 
In addition, there's a $400 Monmouth Park-Woodbine handicapping contest consisting of win, place and show wagering. The contest is open to the public with walk-up registration on Saturday only. 
The top four finishers earn a seat in the 2019 NTRA National Horseplayers Championship and the top overall finisher also earns entry into the 2018 Breeders' Cup Betting Challenge. 
Saturday is also the Summer Racing Festival T-Shirt Giveaway, with the first 5,000 paid admission receiving T-shirts. 
Following the races, there will be live entertainment at the Beer Garden at Blu Grotto from the Bobby Bandeira band and a DJ from Rock The House Entertainment.