Hunter O'Riley Rallies To Win United Nations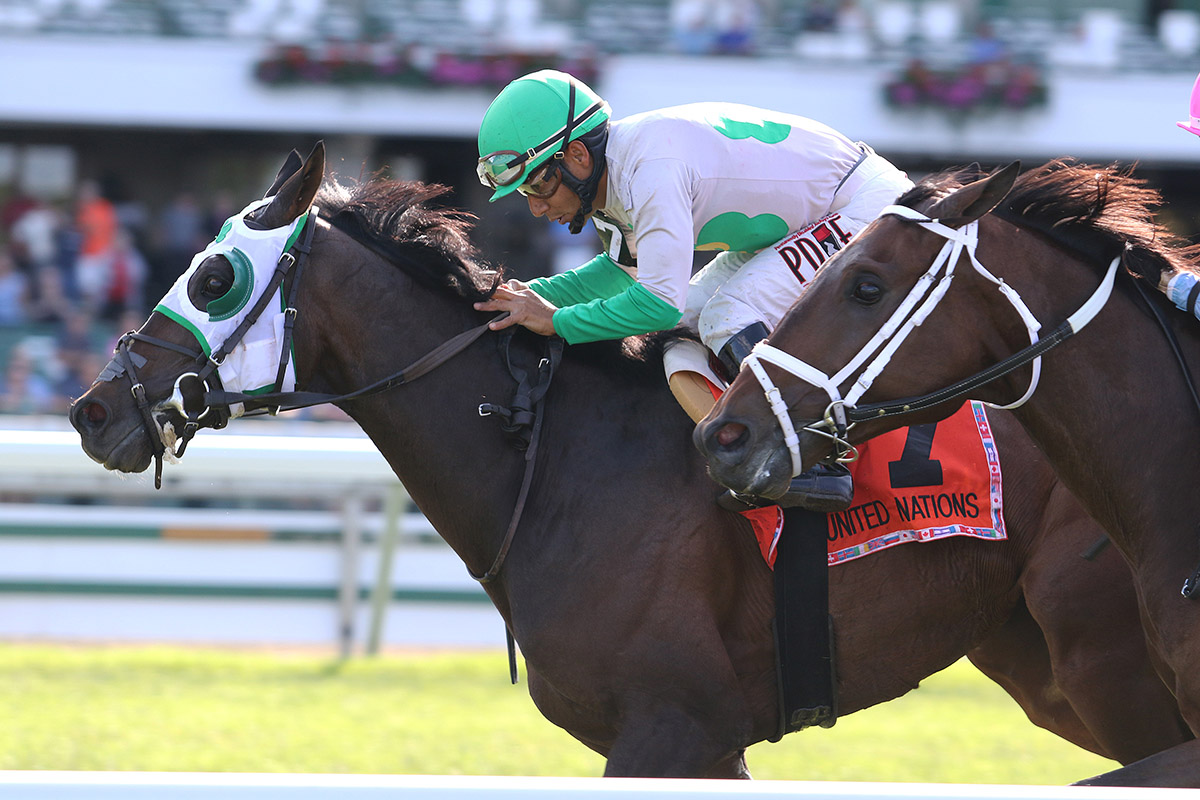 A pair of horses that had been strangers to the winner's circle the past two years dominated the two biggest stakes races on Monmouth Park's bundled stakes program on Saturday.
Hunter O'Riley, who hadn't won since July of 2017, stormed home to take the Grade 1 United Nations Stakes by a neck over Zulu Alpha at odds of 14-1, while Monongahela scored a mild upset in Grade 3 Philip H. Iselin Stakes for trainer Jason Servis at odds of 4-1.
Monogahela, a private purchase who came into Servis' care three races ago, used a stalking trip to score a four-length victory over Bal Harbour – the 5-year-old's first victory since December of 2017.
Hunter O'Riley, trained by James J. "Jimmy" Toner and ridden by Paco Lopez, spent most of the mile and three-eighths of the United Nations in last or next to last in the eight-horse field before being switched outside and asked for run entering the final turn.
He surged five-wide on the outside and just got up at the wire to catch Zulu Alpha. It was another 1½ lengths back in third to 9-5 favorite Channel Cat.
"A super ride by Paco," said Toner. "This horse has a tendency to take himself out of races. Paco saved ground all the way and he was with the field and then when he hit the turn and tipped out – I thought he might have tipped out a little too far – but once he tipped out he made a good run the last part of it
"He rode a tremendous race on him. (The instructions were) save as much ground with him as you can all the way but when you get around tip outside. He runs better on the outside. He couldn't have followed orders any better than that."
Owned by Sean Shay and Michael J. Ryan, Hunter O'Riley covered the distance over a turf course labelled "good" in 2:17.10.
"Jimmy Toner told whatever you want to do go do, just don't stay on the rail and don't stay inside. He said stay outside," said Lopez. "I was worried a little bit about the slow fractions but my horse in the first turn was very comfortable. Jimmy asked me to rate him and keep him in a good position.
"At a half mile I started to get him outside and then when I asked him to run he really gave me what he has. I had good position the whole way. I liked where I was. He fired a little slowly but then he got rolling."
Hunter O'Riley returned $30.20 to win in posting his fifth victory in 22 career starts.
Monongahela, generally much further back in his races, stalked pace-setting 6-5 favorite Diamond King before kicking in and pulling away for an easy victory under jockey Jose Lezcano, covering the mile and a sixteenth in 1:42.45.
"I wasn't the one who changed this horse's running style," said Servis. "Jose Lezcano did. He told me `I want to be forwardly placed. I think he prefers that instead of he has been running.'
"He also told me didn't like horses on the outside of him. I told him `Jose, you ride him however you want.' He learned a lot when he rode him two races ago."
Lezcano said he got a good feel for Monongahela's best running style from his ride aboard him in the Grade 3 Excelsior at Aqueduct on April 6.
"The one time I rode him before this we were further back and I felt like he didn't want to go by horses even though I thought I had plenty of horse," Lezcano said. "Today I tried to put him a lot closer, that way he can finish and do the job."
In the Grade 3 Eatontown Stakes, Valedictorian – also ridden by Lopez – continued to show her love for Monmouth Park's turf course and the winner's circle, scoring a 2¾-length victory over Maid to Remember.
It marked the 5-year-old mare's fourth victory in five starts on the Monmouth turf course and was her 12th victory in 28 career starts. She also has six seconds and three thirds.
"There are not too many like her," said trainer Kelly Breen. "It's really fun to have in our barn. She likes it here, but I didn't know if she would like it today with all of the rain we had, although she did win on a yielding turf at Laurel. But I was concerned about the footing."
Valedictorian, who returned $3.60 to win, had been hooked in an early speed duel with Conquest Hardcandy, with the two opening up a nine-length lead on the field before Lopez back off. He had plenty in reserve for the stretch, with Valedictorian travelling the mile and a sixteenth on the grass in 1:43.70.
In the final stakes race on the card, Pinks Sands, trained by Shug McGaughey and ridden by Jose Ortiz, rallied from far back to capture the $100,000 Lady's Secret Stakes by 3½ lengths over Breaking Bread.
The 4-year-old filly was fitted with blinkers for the first time and was also making her debut at two turns.
"In training she's had three works with the blinkers. Not that it put speed in her but she seemed to level off a lot better with the blinkers," said Bobby Medina, the assistant to trainer Michelle Nevin. "They were going pretty good out there early and she's kind of a one-run horse. It takes her a while to get going but once she does it's impressive.
We figured this was a good spot for her to try first time around two turns. She had been progressing to that and we thought this would tell us where we stood so we can map out the rest of the year with her."