12 Days After First Career Win 25-Year-Old Trainer Ciamei Looking To Add To That With Two Entered On Friday's Card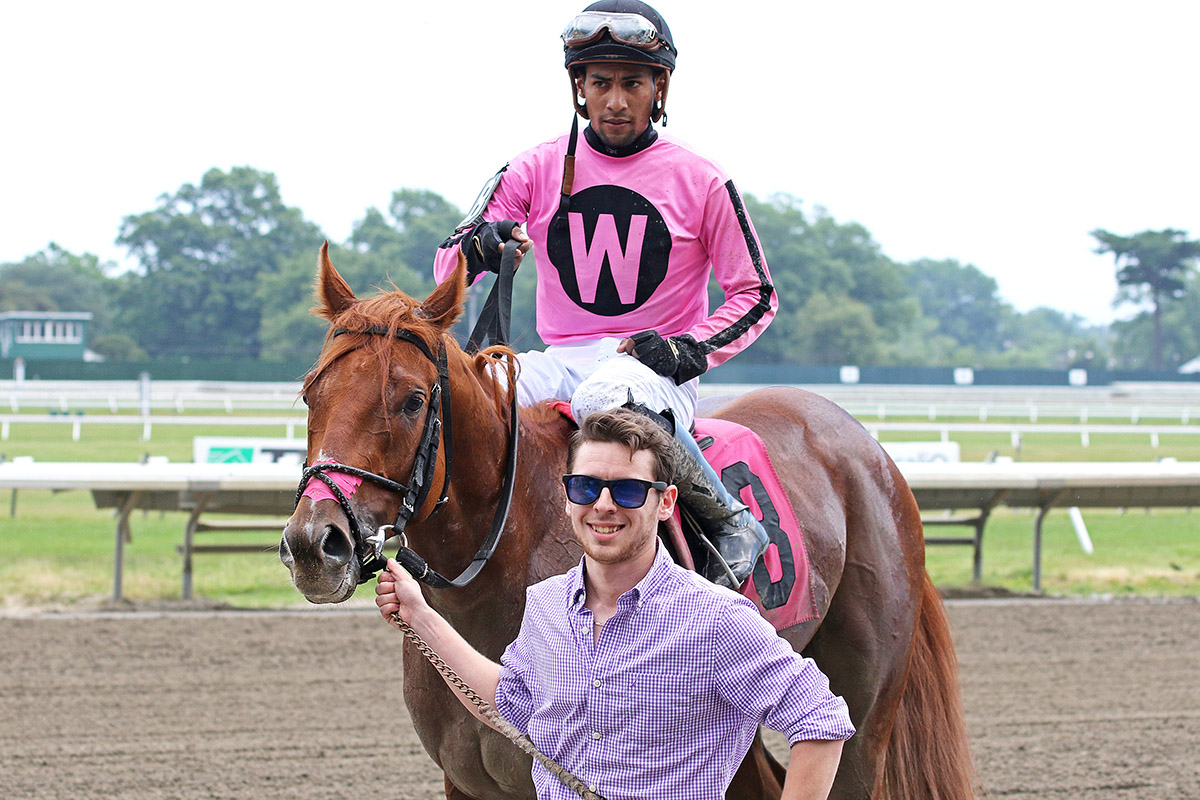 As much as Matthew Ciamei would have preferred not having to endure six months before his first career winner as a trainer, the fact that it happened at Monmouth Park for the Berkeley Heights, N.J., native made the wait worthwhile,
Ciamei, 25, broke through as a trainer when Runnin' Block prevailed by a neck at Monmouth Park on June 25. The only other two horses in his stable, Never and Burning Man, are entered in separate races on Friday's eight-race card at the Jersey Shore track.
"It's pretty cool that my first win came at Monmouth Park, the track I grew up at, with my grandparents there to see it," said Ciamei. "It was exhilarating but it was also a relief to get that first one."
Ciamei said he has been coming to Monmouth Park "since I was in a stroller," influenced by his grandfather, Richard T. Woll, who owned horses.
"I used to come to the track with my grandfather all the time," said Ciamei. "My grandparents lived at the Jersey Shore so I would be at the track with them the whole summer. I really loved it. I've wanted to be a trainer for as long as I can remember."
But there was a catch before Ciamei could pursue his dream: His family insisted he get a college degree first. He did that, getting both his undergraduate degree and a Master's degree in accounting from Manhattan College.
"That was the deal with my family, to finish college, get my degree and then I could go after my dream, which was training," he said. "I have no intentions of using those degrees but it puts my parents at ease to know I have them."
Ciamei, who attended Oratory Prep in Summit, N.J., took out his trainer's license in January, starting at Palm Meadows in Florida.
He finished fifth with Never in his first career start at Gulfstream on Jan. 5, shifting his small stable to Monmouth Park in May. After starting 0-for-9, Runnin' Block delivered his first career win.
"I didn't expect it to be easy or smooth sailing so it has been what I expected – a learning curve with ups and downs," said Ciamei, who started out working for Anthony Margotta. "I only have the three horses now but I am looking to claim. I have people who want to claim and I have empty stalls. We have money in the box. We're trying to claim but we're also trying to be smart about it so we're being patient."
On Friday, Never goes in the first race, a maiden $40,000 claimer at five furlongs on the turf. Two races later Burning Man tries a $22,000 claimer at a mile and an eighth on the grass for Ciamei, who is 1-for-10 in his young career.